Thirty-five supermodels have strutted their stuff on a Miama catwalk, showing off an outrageous collection of underwear from lingerie house Victoria's Secret.
Models including Heidi Klum, Miranda Kerr, Adriana Lima and Alessandra Ambrosia walked the catwalk in a show consisting of naughty knickers, sexy underwear and the occasional pair of wings.
Around 68 outfits were worn by the models, including the US$5 million Black Diamond Fantasy Miracle Bra, worn by Lima.
Musician Usher closed the show, and celebrities including Paris Hilton, P Diddy and Kim Kardashian were in the crowd.
2008 Victoria's Secret Fashion Show Promo Vid
Click for Larger View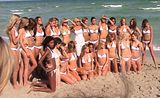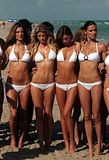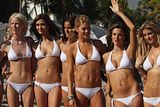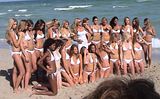 Source
dailydozeoffun.blogspot.com/2008/11/victorias-secret-fashion-show.html
runwaytoretail.blogspot.com/2008/11/victorias-secret-fashion-show.html
vinstein.blogspot.com/2008/11/victorias-secret-fashion-show-2008.html

Victoria's secret fashion show 2008 photogalley